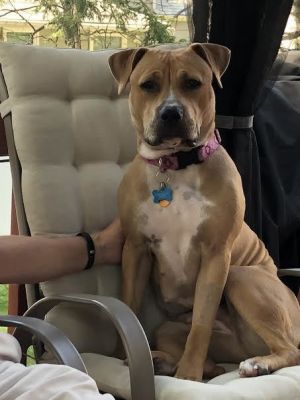 American Staffordshire Terrier
Spayed/Neutered
Up-to-date with routine shots
Gracie is a two year old, apricot/cream colored, American Staffordshire mix. She was recently spayed, UTD on vaccines, micro-chipped, housetrained and weighs approximately 62 lbs. This young, playful gal and gentle spirit loves toys, going on walks and interacting with her human. She adores greeting people, wagging her entire body in sheer delight, good with children as well, though she is a strong girl. Gracie is a highly affectionate cuddle bug, a mush if you will, desiring to give and receive affection and love. She is obedient and knows sit, give paw, down. She is not much of a barker and does not have a mean bone in her body. Gracie has a great zest for life and still very much a puppy . While we have little history to offer on Gracie, we know she has not had a very stable life. She is now safe and secure living with her foster family in northern NJ. We are looking for potential adopters with dog experience so she can continue her basic training. Families with older children is best as this strong young lady can easily knock down little ones. We will do our due diligence in seeking just the right home and situation to ensure this darling beauty receives the very best care and attention she so deserves. Anyone interested in adopting Gracie, please complete and submit an application which can be found on our website www.danielsdream.org Once applications have been reviewed and processed our adoption coordinators will contact those who qualify to set up a meet and greet. Home visits are required to finalize any adoption.
Baby, Female, Large